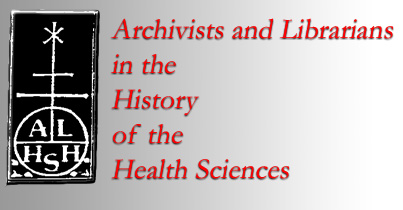 This Association is established exclusively for educational purposes to serve the professional interests of librarians, archivists, and other specialists actively engaged in the librarianship of the history of the health sciences by promoting the exchange of information and by improving standards of service.
>
News (9 July 2017)
The Summer 2017 issue of The Watermark is available online. It contains reports and minutes from the recent ALHHS/MeMA annual meeting in Nashville, Tennessee on 3-4 May 2017. In her "From the President" message, Rachel Ingold writes, "For our new and newish ALHHS members: I urge you to consider volunteering for a committee. This is a great way to learn more about the organization as well as meet others. And if you are a veteran ALHHS member and it has been a while since you've served on a committee, please let me or any of the other officers know about your interest."


Mark your calendars: the 2018 ALHHS/MeMA annual meeting will be held at UCLA and Los Angeles environs on May 9 and 10, 2018.



>
News (10 April 2017)
The Spring 2017 issue of The Watermark is available online. It contains many details, including the Program, about the upcoming ALHHS/MeMA annual meeting in Nashville, Tennessee (aka "Music City USA") on 3-4 May 2017. In his Editor's Message, Steve Novak writes, "While this issue of The Watermark is a little thinner than normal, there's still plenty of good reading. Besides seven book reviews (ALHHS members are readers!), there's a profile of the Rochester (N.Y) Medical Museum and Archives, two member profiles, and plenty of news of members and their collections." At 48 pages, this is a thin issue!?



>
News (27 March 2017)
The ALHHS-MeMA 2017 Annual Meeting (Nashville, Tennessee, 3-4 May 2017) Registration Form, Program, Hotel/Accommodations, and other details are available in our Annual Meeting section. The conference hotel is Sheraton Downtown Nashville at 623 Union Street in Nashville. The conference location on Thursday, May 4th, is the Nashville Public Library Main Branch at 615 Church Street. Local Arrangements: Chris Ryland, Chair; with Jim Thweatt, Stefanie Rookis, and Elisabeth Brander. Program Committee: Tim Pennycuff, Chair; with Brooke Foxe, Michelle Marcella, and John Schleicher.


The 2017 ALHHS election ballots were distributed today (March 27). Voting is open until the end of the day on April 6th (midnight).  As in past years, there is a list of nominees, but also the option of writing in a name.  This is in accordance with the ALHHS  by-laws. There are nominees for the positions: President-elect, Treasurer, and 2 Members-at-Large. All paid-up, current ALHHS members have the right to vote. If you did not receive an emailed ballot notice from the Nominating Committee chair, Chris Lyons, please contact him (christopher.lyons AT mcgill.ca). (Nominating Committee: Chris Lyons, chair; Lisa Mix; Stephen Novak)


The 2017 ALHHS New and Renewed Membership Form is available (for membership based on the calendar year 2017). Complete the form online, then save it and send to ALHHS Treasurer Barbara Niss as an email attachment or via snailmail. A PayPal option is available for making payment online; or, checks may be mailed to the Treasurer.



>
News (20 January 2017)