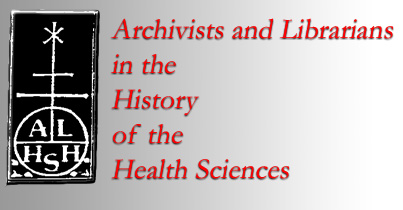 This Association is established exclusively for educational purposes to serve the professional interests of librarians, archivists, and other specialists actively engaged in the librarianship of the history of the health sciences by promoting the exchange of information and by improving standards of service.
>
News (25 March 2019)
The Spring 2019 issue of The Watermark is available online
>
News (5 February 2019)
>
News (29 January 2019)
>
News (24 January 2019)
The Welcome Message/Preliminary Announcement from Local Arrangements co-chairs Judith Wiener and Jennifer Nieves for ALHHS/MeMA-2019 is available. Join colleagues at our meeting hosted at the Ohio State University in Columbus, Ohio from 24-25 April 2019.

>
News (21 January 2019)
The Winter 2019 issue of The Watermark is available online. Highlights include:


Watermark Editor and ALHHS President messages
Welcome to Columbus, site of the 2019 ALHHS/MeMA annual meeting
2019 Annual Meeting program
Calls for awards nominations
Call for travel scholarship applications
MeMA Notes
Member profiles
News from the History of Medicine Division at NLM
News from the Historical Medical Library, College of Physicians of Philadelphia
News of repositories and members
Book reviews
Advertisers
>
News (2 December 2018)
The 2019 ALHHS New and Renewed Membership Form is available (for membership based on the calendar year 2019). Starting with renewals and new memberships for 2019, a "Google Docs" online form collects membership data, replacing the old fillable-PDF format. A PayPal option is available for making payment online; or, checks may be mailed to the Treasurer. If you have questions, contact Phoebe Evans Letocha (ALHHS Treasurer) at: alhhs.treasurer AT gmail.com.


Call for Program Proposals -- Message from 2019 Program Committee Chair Lisa Mix on November 4 to ALHHS-L:

The 2019 Program Committee seeks your participation in the ALHHS/MeMA Annual Meeting, taking place on Thursday, April 25, in Columbus, Ohio. We have some exciting plans in store for the 2019 meeting, and success depends on hearing from a wide range of our members.

† First, Iím delighted to announce that the 2019 meeting will feature a special-focus panel on intersections and partnerships between museums and libraries/archives, chaired by James Edmonson.† Please consider presenting as part of this panel.

† Next, by popular demand, this meeting will include a poster session, along with traditional†paper/presentations and lightning talks.† So, there are a variety of ways to shine a light on the good work that you all are doing, and share your insights with your colleagues.†

† Based on the feedback from the 2018 meeting, our members are most interested in the following topics:


Born-digital archives and challenges related to paper and/or digital preservation
New outreach and programming initiatives
Examples of digital humanities projects and infrastructure
Diversity and inclusion initiatives
Embedding our collections in the curriculum


However, please do not feel limited by the above.† We welcome presentations on any topic of interest and relevance to our membership.

† Please submit your proposal using the form at https://goo.gl/forms/K9e1DbQwuqEJiMIR2.† If proposing a paper/presentation, please indicate whether you want to be considered for the special-focus panel.

† The deadline for submitting proposals is Monday, December 10, 2018.† We will notify proposers of our decisions in early January, to give members sufficient time to make their travel requests and plans.

† If you have any questions, please do not hesitate to contact the Program Committee Chair, Lisa Mix, at: lisamix516@gmail.com.

† We look forward to seeing you in Columbus! †